Synthetic Indices are rising in popularity amongst traders the world over. However, there are still some misconceptions around them and in this post, we will explain what these synthetic indices are and why you may be interested in trading them.
The aim is to help you in understanding synthetic indices.
This a comprehensive guide. You can use the links below to jump to your preferred section. If you are new to forex you can check out this free introduction to forex trading course for beginners.
First, you need to open an account by clicking here.
You will see a box like this:
Enter your email and click where it says  'Create Demo Account'
Confirm your email by opening it and clicking the link sent by Deriv. If you don't find the email check your Junk/Spam folder. The email looks like the one below.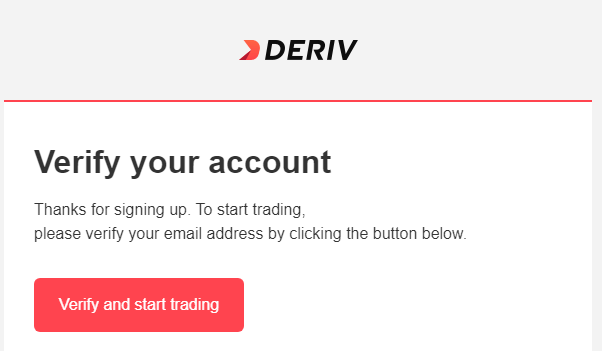 Complete the signing up by entering your preferred password and country of residence. 
2. Open A Real Trading Account On Deriv.com
By default, you will first create a demo account with virtual funds of $10 000 when you sign up. This demo account is meant to help you get used to the platform and try out strategies etc.
To trade real money you will need to open a 'real' account.
To open the real account you will need to login to the demo account you created in the step above. After logging in you will see the screen below:
Begin by clicking on the dropdown menu beside the $10 000 virtual money balance.
The first option under the Real tab will be the option to add a real Deriv account. Click on the add button. The following screen will appear:
You will need to choose your preferred account currency. This is the currency that you will use to trade, deposit and withdraw. Make sure you choose the best currency as you will not be able to change this after you have made a deposit.
You can also create another account with another currency by clicking on the button that says 'Add or manage account'.
On the next few pages add your correct details including name, address and phone number. You will need to use details that you can later verify. This is because as part of its Know Your Customer (KYC) policy, Deriv will ask you to upload your proof of residence and ID or passport.
These documents ought to have the same details you will supply during the registration. 
3. Open A DMT5 Synthetic Indices Trading Account 
The real account you have just created can be used to trade binary options on Deriv.com but it cannot be used to trade on DMT5. To trade synthetic indices on MT5 you will need to open a dedicated mt5 synthetic indices account.
Now when you click on the Real account tab you be able to create up to three DMT5 accounts. These are different accounts which give you the ability to trade different instruments.
For now, we are interested in the mt5 synthetic indices account so click the 'Add' button next to that account type.
The first step will ask you to choose a password for the DMT5 synthetic indices account. This is the password that you will use to login to your Metatrader 5 account.
After creating the account you will now see the account listed with your login ID. You will also get an email with your login ID that you will use to login to the mt5 synthetic indices account. 
After creating your account you will be prompted to transfer funds from your main account to your DMT5.

4. Download the MT 5 platform
You will then need to download the MT 5 platform. To do this you must click on the synthetic account as shown in the pic below.
You will then be taken to a page with links to Metatrader 5 application for various systems like Android, Windows, iOS etc at the bottom of the page. Download the one you want to use.
 5
. Log in to your MT 5 account
After downloading and installing your DMT5 you will then need to login to your trading account. Click on Settings> Log in to new account.
You will need to enter the following:
Broker: Deriv Limited
Server: Deriv-Server
Make sure you type these correctly because if you make mistakes you will not be able to connect to your trading account.
After you log in, you will see a screen below.