There has been reports and misinformation that the coronavirus, now know as Covid-19 is airborne, well the World Health Orgainsation (WHO) has come out to say this is not true.
The coronavirus is mainly transmitted through droplets generated when an infected person coughs, sneezes or speaks. The droplets says WHO, are too heavy to hang in the air as they quickly fall on floors or surfaces.
That is why it is important to always sanitize or wash your hands after touching surfaces, door handles and importantly not touching your face.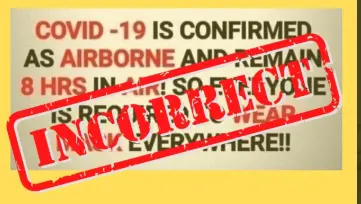 WHO explained that you can catch the virus by breathing in the virus within 1 metre of a person who has Covid-19 or touching a contaminated surface.
Keeping yourself protected:
– keep 1 metre distance from others
-disinfect surfaces frequently
-wash and rub your hands for at least 20 seconds
-avoid touching your face, eyes, mouth and nose.